Date : 03 Jun 1960
Location : Fairview-Lester Cemetery, Dunkerton, IA

Services Set For Dunkerton Woman
Services have been set for Mrs. Agnes Pearl Wagner, 58, formerly of Dunkerton, at the First Presbyterian Church there, for Friday, June 3, at 2 p.m.
The body will lie in state at Brant Funeral Home after 12 a.m. June 2. Burial will be at Fairview cemetery in Dunkerton.
Mrs. Wagner, born in Timble Prairie, Minnesota, on July 10, 1901, is survived by her husband, William Wagner and sons, James of Albequerque and Francis, who is in the Army in North Carolina. Sisters include: Mrs. Belzer, Waterloo; Cora Trumbauer, Dunkerton. She is also survived by one brother, Nelson Trumbauer, Monticello, Illinois.
Mrs. Wagner's body will be shipped to Brant Funeral Home following services in Albequerque, her final residence. Arrangements will be made by French-Fitzgerald Mortuary of Albequerque, New Mexico. Body will be escorted by her son, James Wagner.

Oelwein Daily Register - Jun 1, 1960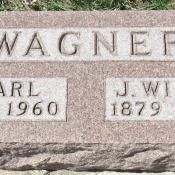 Click to enlarge
Photo courtesy of Find a Grave member #47449125.
---