Date : 21 Mar 2009
Location : Drummond Cemetery, Drummond, WI

Bjork, Shirley I. (23 OCT 1933 - 17 MAR 2009)
Shirley I. Bjork, 75, Drummond, formerly of Curtiss and Grand View, died on Tuesday, March 17, 2009, at Ashland Health and Rehabilitation Center, Ashland. A gathering of family and friends was held at noon on Saturday, March 21, at the Grand View Civic Center.
Shirley I. Trier was born on Oct. 23, 1933, in Burlington, to John C. and Emily Trier. She lived in Burlington and later moved to the Grand View area and graduated from Drummond High School. She married Ronald Bjork on March 16, 1956, in Washburn. She worked at the Drummond mill and later was a stay-at-home mom and bookkeeper for the couple's logging business. In 1980, the couple moved to Curtiss, where they worked as dairy farmers for 14 years. In 1994, they retired and moved back to the Drummond area.
Survivors include one son, Ricky (Heidi) Bjork, Owen; five daughters, Connie (Robert) Schoenborn, Phillips, Sandy (Brian) Pierce, Mason, Becky (Dave) Koller, Curtiss, Linn Lindner, Madison, and Jenny (Cuyler) Robida, Loyal; 14 plus grandchildren; and one great-granddaughter; and one sister, Lynn (Wendell) Kemp, Janesville.
Preceding her in death were her husband; parents; and one sister.

Tribune Record Gleaner - Mar 25, 2009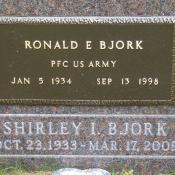 Click to enlarge
Photo courtesy of Find a Grave member #46983684. (Thank you Nancy!)
---