Date : 16 Jul 1973
Location : St. Peter's Catholic Church Cemetery, Spring Grove, IL

PHILIP F. RINDA, JR.
Philip F. Rinda, Jr., 39, of 512 Engels place, Spring Grove, died Friday, July 13, at St. Therese hospital, Waukegan, following a long illness.
The deceased was born April 28, 1934 in Chicago, son of Philip F. Rinda, Sr., and Lucille McMahon Rinda. On Sept. 21, 1957, he married Patricia Busch who survives. He had been a resident of the Spring Grove area for the past 15 years.
Mr. Rinda was a 1952 graduate of Richmond-Burton high school and had served in the U.S. Army during the Korean war. He was employed by Northern Illinois Gas company for the past fifteen years.
The deceased was a member of St. Peter's Catholic church, Spring Grove, the Holy Name society, the Spring Grove volunteer fire department, Moose Lodge No. 1881 of Fox Lake and was steward of Local 1878 of the I.B.E.W.
Besides his wife, he is survived by two daughters, Debra Ann and Peggy Jeanette, and one son, Philip James, all at home; also by his mother, Mrs. Lucille Rinda, of Spring Grove; two sisters, Mrs. Donald (Lucille) Hahn of Spring Grove and Mrs. Richard (Alice) Thomas Fox Lake; and three brothers, George of Spring Grove and John and Thomas of Genoa City, Wis.
He was preceded in death by his father and one brother, Robert.
Msgr. Leonard Busch officiated at funeral services held Monday morning at St. Peter's Catholic church. Interment was in the church cemetery, where graveside military rites were conducted by the Paul C. Hoffman post of the American Legion. Visitation was held Sunday at the Ehorn and Adams funeral home, Richmond.

The McHenry Plaindealer - Jul 18, 1973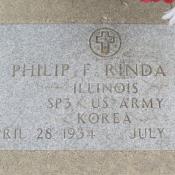 Click to enlarge
Photo courtesy of Find-a-Grave member #46812566.
---