Date : 09 Aug 1933
Location : Fairmount Cemetery, Davenport, IA

John O'Meara, Life Resident Of Davenport, Dies Suddenly Sunday After Short Illness
John I. O'Meara, well known Davenport resident, died unexpectedly Sunday at 10:30 a. m. at the family home, 1730 Marquette street, following a week's illness. Mr. O'Meara, who was in his 47th year, suffered a heart attack a week ago and had since been confined to his home. He was apparently on the road to recovery but on Sunday morning suffered a stroke which resulted in his death a short time later.
Born in Davenport, Oct. 2, 1886, Mr. O'Meara lived here his entire life. He was a son of the late Mary Killion and Thomas J. O'Meara. His father was a pioneer business man of the city and conducted a shoe store here for many years.
With Voss Company.
Mr. O'Meara received his education in St. Anthony's school and St. Ambrose college here and later attended the Christian Brothers college in St. Louis. On Nov. 3, 1914, he was united in marriage to Miss Claire Voss, the ceremony being performed at St. Anthony's rectory by the late Very Rev. D. J. Flannery.
For 18 years Mr. O'Meara was connected with the engineering department of the Tri-City Railway company and for the past year and a half had been cost accountant at Voss Bros. Manufacturing Co. He was a member of Loras council, Knights of Columbus, Loras assembly, Fourth Degree, Knights of Columbus, and of Davenport lodge No. 298, B. P. O. Elks.
Surviving are his wife, three sisters, Mrs. Nellie Mac Rae and the Misses Mae and Lillian O'Meara of Davenport, and a brother, Thomas J. O'Meara of Glendale, Calif.
Funeral Wednesday.
News of Mr. O'Meara's death comes a shock to his many friends here. Possessed of a genial disposition and a keen sense of humor he was extremely popular with all whom he came in contact. Jack O'Meara's friends were legion and he was never known to have spoken an unkind word about anyone.
The body was taken to the Halligan funeral home and will be returned to the family home, 1730 Marquette street, Tuesday at 3 p. m., from where the funeral will be held Wednesday at 8:30 a. m. with services at Holy Family church at 9 o'clock. Interment will take place in Fairmount cemetery.

Quad-City Times - Aug 7, 1933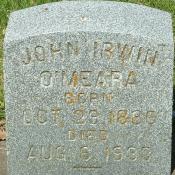 Click to enlarge
Photo courtesy of Find-a-Grave member #47643907.
---