Date : 02 Aug 2004
Location : St. Peters Lutheran Cemetery, Denver, IA

Helen M. Lovell (1930-2004)
CEDAR FALLS
Helen M. Lovell, 74, of Cedar Falls, died at home Wednesday, July 28, of lung cancer.
She was born May 5, 1930, in Black Hawk Country, daughter of Franklin and Alice Diercks Tribon. She married Leland D. Lovell on Jan. 11, 1952, in Maxwell. He died Jan. 9, 1970.
Mrs. Lovell was employed as a timekeeper with Rath Packing Co. until the plant closed.
Survivors include: a son, Kenneth D. (Sharon) of Waterloo; five grandchildren; and a great-grandchild.
Preceded in death by: two brothers, Arthur and Herman Tribon; and a sister, Maxine Bennett.
Services: 1 p.m. Monday at the Nazareth Lutheran Church Chapel. Friends may call from 2 to 6 p.m. today at Richardson Funeral Home and for an hour before services at the church Monday.
Memorials: may be directed to Cedar Valley Hospice.

Waterloo Courier - Aug 1, 2004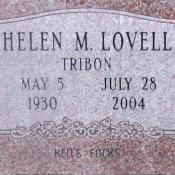 Click to enlarge
Photo courtesy of Find a Grave member #47156311.
---