Date : 28 Oct 1960
Location : Fairview-Lester Cemetery, Dunkerton, IA

Friday Services For Dunkerton Woman
Funeral services are set at 2 p.m. at the Dunkerton Methodist church Friday for Mrs. Cora M. Trumbauer, 76, Dunkerton, who died Monday at the Allen Memorial hospital in Waterloo.
The body will lie in state at the Brant funeral home in Oelwein. Burial will be at the Grandview cemetery in Dunkerton.
Survivors include three sons and a daughter: Mrs. Harry Wheeler, Dunkerton; Charles, Evansdale; Clyde, Mishawaka, Ind., and Paul, Shirley, Ind. Nine grandchildren, two great grandchildren and a brother, Nelson, Monticello, Ill., also survive.
A sister, Mrs. Ella Belzer. preceded her in death by but 26 hours, Oct. 24.

Oelwein Daily Register - Oct 26, 1960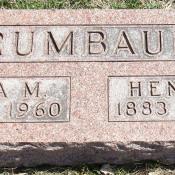 Click to enlarge
Photo courtesy of Find a Grave member #47449125.
---