Date : 11 Jan 2014
Location : Rice Cemetery, Elkhart, IN

REV. CLYDE A. TRUMBAUER August 27, 1921 - January 6, 2014
ELKHART
Rev. Clyde A. Trumbauer, 92, of Elkhart, passed away at 1:05 p.m. Monday January 6, 2014 at Greenleaf Health Center. He was born August 27, 1921 in Black Hawk County, Iowa to Henry and Cora Trumbauer. On April 26, 1945 in Butler County, PA he married Joyce B. Burtner. She survives along with 2 daughters, Donna (Dr. Christian) Losch of Elkhart, Rhonda (Lanie) Creech of Roanoke, IN; 9 grandchildren;16 great-grandchildren and 5 great great grandchildren. He was preceded in death by 1 sister, Gladys Wheeler and 2 brothers, Charles and Paul. "Brother Clyde" as he was known served in the U.S. Navy in World War II as a medical corpsman on the Pacific island of New Caledonia from 1942-1945. After returning home, he graduated from Taylor University in Upland, Indiana and Asbury Theological Seminary in Willmore, KY., and began his career as a Methodist pastor in the Indiana Conference of the Methodist Church (later to become the United Methodist Church). When the bishop announced a critical need for chaplains in the military, Clyde enlisted in the Navy to serve his country a second time, from 1954-1958 as a Navy chaplain, for two years on board the USS Anderson troop ship and two years at the Marine base at Parris Island, South Carolina. Clyde truly enjoyed his service in the Navy and spent many years thereafter in the Reserves. Following the Parris Island assignment, Clyde returned to northern Indiana to resume his ministry there.
Clyde had a smile that would light up a room. It could accurately be said that he never met a stranger, and he was the quintessential people's person. Over the years, he served many north Indiana churches, including Silver Lake/South Pleasant churches, and other United Methodist churches at Roanoke, Marion, Otterbein, Gary, and Elkhart. As a pastor, he was appreciated for his people skills and excelled in such endeavors as counseling, and visitation of his parishioners in prison, in the hospital, and at home. He enjoyed participating in the camping program for United Methodist youth throughout northern Indiana, and led numerous work camps, taking laymen all over the nation to perform construction projects at various churches, including clean-up after natural disasters.
Visitation will be at the Calvary United Methodist Church from 10:00 until 11:00 on Saturday morning, January 11, to be followed by a Celebration of Life Service at 11:00. Memorial contributions may be given to the Calvary United Methodist Church, 2222 West Indiana Ave., Elkhart, IN 46516. Walley-Mills-Zimmerman Funeral has been entrusted with the arrangements.

https://www.wmzfh.com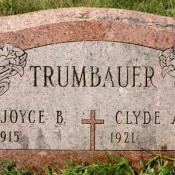 Click to enlarge
Photo courtesy of Find a Grave member #47242613.
---