Date : 15 May 1964
Location : Sunset Memorial Park Cemetery, Minneapolis, MN

Dies at St. Paul
Mrs. Arthur Patridge, 61, Sumner, died Tuesday at Miller hospital, St. Paul, following a long illness.
She had made her home here with her father, Joe Tribon, the last eight years,
following the death of her husband. She had been hospitalized three weeks.
Funeral services were Friday at the Willwershield Funeral home. St. Paul, with burial there.
Rachel, daughter of Mr. and Mrs. Joe Tribone, was born at Sumner, Oct. 14, 1902. She married Arthur Partridge and the couple resided in St. Paul. She was a member of the Order of Eastern Star. Surviving are a daughter, Mrs. Forrest (Jolen) Saemrow; four grandchildren, of Chicago; sister, Mrs. Herbert Haefner, Cedar Falls; brother, Clifford Tribon, Fairbank.
She was preceded by her husband.

Tripoli Leader - May 20, 1964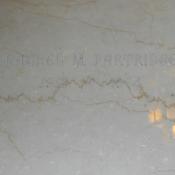 Click to enlarge
Photo courtesy of Find a Grave member #47592448.
---