Date : 10 Apr 2018
Location : St. Peter's Catholic Church Cemetery, Spring Grove, IL

Helen Elizabeth Busch
Helen Elizabeth Busch, age 93, of Spring Grove and formerly of McHenry, passed away Wednesday, April 4, 2018 at her home surrounded by her loving family.
She was born July 20, 1924 in McHenry to Robert and Edna (Phalin) Knox. Helen graduated from McHenry High School with the Class of 1941. On October 13, 1956 she married James Busch in a double wedding ceremony with her sister Joanne and Wencil Stanek at St. Patrick Church in McHenry.
In her youth Helen was a champion ping pong player and enjoyed roller skating and dancing. Her first car was a hearse. She also loved reading the newspaper, politics and current affairs. Helen was very devoted to her faith, she loved God. First and foremost, Helen loved her family and was devoted to her family throughout her entire lifetime.
She is survived by two children, Marty (Sherri) Busch, Carol Gurgul; three grandchildren, Jamie Gurgul, Matthew Gurgul, Joshua McKinney; five great-grandchildren, James Busch, Jonathan Walker, Lily Busch, Tony Busch, Jackson Busch; two sisters, Eileen Mauer and Lucille Harris; and many nieces and nephews.
Helen was preceded in death by her parents; husband Jim; a grandson, Paul Busch; and siblings, Mary Rossi, Kathleen Knox, Robert Knox, Howard Knox, Joanne Stanek, Julia Huska, John Knox, and Kevin Knox.
Visitation will be on Monday, April 9, 2018 from 4:00 p.m. until 8:00 p.m. at Thompson Spring Grove Funeral Home, 8103 Wilmot Road, Spring Grove, IL 60081. Visitation will resume on Tuesday, April 10, at Thompson Spring Grove Funeral Home, from 9:00 a.m. until closing prayers. The funeral Mass will be celebrated at 10:30 a.m. at St. Peter's Catholic Church, 2118 Main Street, Spring Grove, IL 60081. Interment will be in St. Peter's Catholic Cemetery, Spring Grove, IL.
For those wishing to send an expression of condolence, Helen's family suggests memorials to St. Peter's Church. To send flowers or an online condolence to the family of Helen Busch please visit our Tribute Store at www.ThompsonSpringGrove.com.


Northwest Herald (Woodstock, IL) - Apr 8, 2008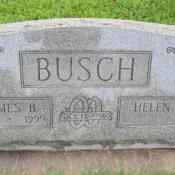 Click to enlarge
Photo courtesy of Find-a-Grave member #46812566.
---