Date : 09 Sep 1999
Location : St. Peter's Catholic Church Cemetery, Spring Grove, IL

James B. Busch
SPRING GROVE
James B. Busch, 71, of Spring Grove, died Sunday, Sept. 5, 1999, at Alden Terrace Nursing Home in McHenry.
He was born Jan. 13, 1928, in Burlington, Wis., to Bernard and Frances (Robers) Busch. He married Helen Knox on Oct. 13, 1956, in McHenry.
He was a lifelong resident of the Spring Grove area and was a 1946 graduate of Richmond-Burton Community High School. He later attended the University of Wisconsin at Whitewater.
He served in the U.S. Army during the Korean conflict and was a member of the Paul C Hoffman American Legion Post No. 253 in Richmond and St. Peter Church in Spring Grove.
Mr. Busch worked as a carpenter and was a member of the Carpenters Union Local 2087 in Geneva before retiring in 1992.
Survivors include his wife; a son, Martin (Sherri) Busch of Spring Grove; a daughter, Carol (Edward) Gurgul of Spring Grove; his father of Burlington. Wis.; a brother, Leon (Patricia) Busch of Richmond; four sisters, Dolores (Charles) Walker of Kenosha, Wis., Evelyn Elfmann of Richmond, Patricia (Vernon) Miller and Jeanette (John) Vierke, both of Spring Grove; and three grandchildren, Paul Busch and Jamie and Matthew Gurgul.
He was preceded in death by his mother in 1980; two brothers, Theodore and John Busch; and two brothers-in-law, Larry Elfmann and Philip F. Rinda, Jr.
Friends may call from 4 to 8 p.m. Wednesday, Sept. 8, at the Spring Grove Funeral Chapel, 8103 Wilmot Road, Spring Grove. The Mass of Christian burial will be celebrated at 10 a.m. Thursday, Sept. 9, at St. Peter Church, 2118 Main St., Spring Grove, with the Rev. Andrew Plesa officiating. Interment will be in the parish cemetery.
Those desiring may make contributions to St. Peter Church or Masses in his memory.

Northwest Herald (Woodstock, IL) - Sep 7, 1999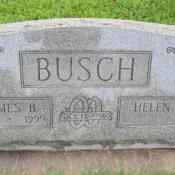 Click to enlarge
Photo courtesy of Find-a-Grave member #46812566.
---