Date : 21 Oct 2000
Location : St. Peter's Catholic Church Cemetery, Spring Grove, IL

Ben J. Busch
SPRING GROVE
Ben J. Busch, 100, of Spring Grove, died Tuesday, Oct. 17, 2000, at Mount Carmel Medical Center in Burlington, Wis.
He was born Aug. 18, 1900, in Burlington, to Theodore and Mathilda (Krift) Busch. He married Frances C. Robers on April 21, 1925, in New Munster, Wis. She preceded him in death Feb 6, 1980.
He was a farmer for many years, retiring in 1955. He was a cement foreman for A.N. May Builders retiring in 1966.
He was a member of St. Peter Catholic Church in Spring Grove. He served on the Spring Grove Planning Comission. He was a former member of the Holy Name Society and the Pure Milk Association.
Survivors include four daughters, Delores (Charles) Walker of Kenosha, Wis. Evelyn Elfmann of Richmond and Patricia (Vernon) Miller and Jeanette (Dr. John) Vierke, both of Spring Grove; son, Leon (Patricia) Busch of Richmond; a daughter-in-law, Helen Busch of Spring Grove; 18 grandchildren; 31 great-grandchildren; and three great-great-grandchildren.
In addition to his wife, he was preceded in death by three sons, Theodore, Jack and James; four grandchildren, Mary, Marie, Joseph, and John Elfmann; two great-grandchildren, Patricia Rose Rinda and Andrew Cunningham; a sister, Amelia Burbach; four brothers, Frank, Monsignor Leonard, Arthur and Clarence Busch; and two sons-in-law, Phil Rinda and Larry Elfmann.
Visitation will be from 9:30 a.m. Saturday, Oct. 21, until the Mass of Resurrection is celebrated at 11 a.m. at St. Peter Catholic Church in Spring Grove, with the Rev. Andrew Plesa officiating.
Interment win be in St. Peter Church Cemetery in Spring Grove.
In lieu of flowers, memorials may be made in his name to St. Jude Children's Research Hospital, P.O. Box 1000, Dept. 300, Memphis, Tenn. 38148-0552.
Arrangements were made by Ehorn-Adams Funeral Home, 10011 Main St., Richmond.

Northwest Herald (Woodstock, IL) - Oct 19, 2000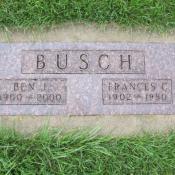 Click to enlarge
Photo courtesy of Find-a-Grave member #46812566.
---