Date : 09 Jan 1999
Location : St. Peter's Catholic Church Cemetery, Spring Grove, IL

Jack Busch
GLENVIEW
Jack Busch, 63, of Glenview, formerly of Spring Grove, died Tuesday, Jan. 5, 1999, at Glenview Terrace Nursing Center in Glenview.
He was born Dec. 5, 1935, in Burlington, Wis., to Ben and Frances (Robers) Busch.
He lived with his parents in Spring Grove and first worked at Phillips Book Bindery in Spring Grove for 10 years and then at Intermatic Inc. in Spring Grove for 10 years until 1981. He attended St. John's School for the Deaf in Milwaukee. He joined and lived at the Center on Deafness in Des Plaines from 1981 until 1995 when entered the Glenview Terrace Nursing Center. He was a member of St. Peter Catholic Church in Spring Grove.
Survivors include his father, Ben J. Busch of Spring Grove; four sisters, Dolores (Charles) Walker of Silver Lake, Wis., Evelyn Elfmann of Richmond, Patricia (Vernon) Miller of Spring Grove and Jeanette (John) Vierke of Spring Grove; two brothers, James (Helen) Busch of Spring Grove and Leon (Patricia) Busch of Richmond; and many nieces and nephews.
He was preceded in death by his mother, a brother Theodore Busch and brothers-in-law, Phil Rinda and Larry Elfmann.
Visitation will be from 9:30 a.m. until the Mass at 10:30 a.m. Saturday, Jan. 9, at St. Peter Catholic Church in Spring Grove, Rev. Jim Stajkowski officiating.
Interment will be in St. Peter Church Cemetery in Spring Grove.
Funeral arrangements are being handled by Ehorn-Adams Funeral Home in Richmond.

Northwest Herald (Woodstock, IL) - Jan 7, 1999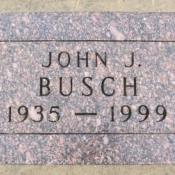 Click to enlarge
Photo courtesy of Find-a-Grave member #46812566.
---