Date : 17 Mar 1956
Location : St. Peter's Catholic Church Cemetery, Spring Grove, IL

THEODORE BUSCH BODY ARRIVES HOME FOR BURIAL
Jeep Accident In Korean Mountains Resulted In Death
The body of Theodore Busch, 24, is arriving this week in Richmond from Korea, where he was killed in an accident Feb. 22.
All of the details have not yet been received, but it is known that the young serviceman and several companions were enjoying a sight-seeing trip in the mountains when the vehicle fell from a cliff. It is not known whether any of the others lost their lives.
The body will rest at the Ehorn funeral home in Richmond Thursday and Friday. Services will be conducted from St. Peter's church at 10 o'clock Saturday.
Besides his parents, Mr. and Mrs. Ben Busch, he is survived by seven sisters and brothers, Mrs. Charles Walker of Silver Lake, Wis., Mrs. Larry Elfman, James, Leon, Patricia, Jack and Jeannette, all of Richmond.

The McHenry Plaindealer - Mar 15, 1956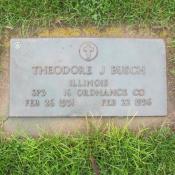 Click to enlarge
Photo courtesy of Find-a-Grave member #46812566.
---