Date : 09 Feb 1980
Location : St. Peter's Catholic Church Cemetery, Spring Grove, IL

FRANCES C. BUSCH
Frances C. Busch, age 78, of 1922 Main street, Spring Grove, died Wednesday afternoon, Feb. 6, at McHenry hospital. She was born Jan. 22, 1902, in Wheatland, Wis., the daughter of John and Christina Schmidtkamp Robers.
Mrs. Busch was married to Ben J. Busch, Apr. 21, 1925, in New Munster, Wis. add had been a resident of Spring Grove for 39 years. She was a member of St. Peter's Catholic church in Spring Grove; Christian Mother's Sodality; Richmond American Legion Auxiliary and was a Gold Star Mother.
She is survived by her husband, Ben, four daughters, Mrs. Charles (Delores) Walker, Silver Lake, Wis.; Mrs. Larry (Evelyn) Elfmann, Richmond; Mrs. Patricia Rinda and Mrs. John (Jeanette) Vierke, both of Spring Grove; three sons, James and Jack of Spring Grove and Leon of Richmond; eighteen grandchildren and four great grandchildren.
She was preceded in death by a son Theodore, in Feb., 1956, two sisters and nine brothers.
A funeral Mass was concelebrated at 10:30 a.m., Saturday, with Monsignor Leonard Busch and Fr. John Kilduff. Interment was in St. Peter's cemetery in Spring Grove. Visitation was from 2 to 9 p.m. Friday at the Ehorn-Adams funeral home in Richmond.
Memorials may be made in her name to the Richmond Rescue Squad.

The McHenry Plaindealer - Feb 13, 1980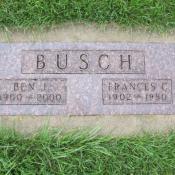 Click to enlarge
Photo courtesy of Find-a-Grave member #46812566.
---