Date : 23 Apr 1968
Location : Mound Cemetery, Racine, WI

ROSSMILLER, MRS. JOHN (BESSIE) (NEE: TAPLING)
Formerly of 1805 Prospect St.
Age 88. Passed away April 19, 1968. Mrs. Rossmiller was born in Racine on April 30, 1879 and had been a lifetime resident.
Surviving are one daughter and son-in-law, Bessie and Alfred Eichler of Chevy Chase, Md., one grandson, John of Chevy Chase, Md.; one niece, Mrs. William Gutzman, of Racine; also many other nieces and nephews. Her husband, John, preceded her in death on Sept. 25, 1950.
Funeral services will be held Tuesday, 1 p.m., in the Hanson Funeral home, Rev. Edwin M. Leidel officiating. Interment will be in Mound Cemetery. Friends may call at the HANSON FUNERAL HOME, 722 Lafayette Ave., this (Monday) evening after 7 oclock. If friends so desire, memorials may be sent to one's favorite charity.

Racine Journal Times - Apr 22, 1968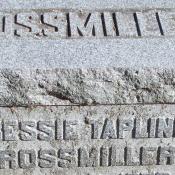 Click to enlarge
Photo courtesy of Nadeen Sobottka.
---