Date : 31 Mar 2010
Location : Holy Cross Cemetery, Akron, OH

Scott T. Vorhes
Scott T. Vorhes, 56, passed away on March 27, 2010.
An Akron native, Scott was a graduate of Garfield High School. For a number of years he was co-owner of K & S Builders and Sol-Air Structures, Inc.
He was preceded in death by his wife, Kathy; daughter, Kara; parents, Robert Vorhes and Jewell Vorhes Takacs; sister, Kathy Vorhes; father-inlaw, Warren Michael; and sister-in-law, Sheree Michael. He is survived by son, Scott E. Vorhes; the love of his life and his greatest joy, granddaughter, Bayliegh Vorhes; brother, Robert (Julie); sister, Teresa Lecrone; mother-in-law, Pansy Michael; sister-in-law, Robin Lucco; brothers-in-law, Warren, Wayne, and Wade Michael, and James Lucco; many nieces, nephews, and friends.
Rev. Scott Campbell will officiate at funeral services on Wednesday at 7:00 p.m. at the Dunn-Quigley Funeral Home (811 Grant St.) where friends may call one hour prior to service time.
The family wishes to acknowledge the staff of the Hospice Care Center for their professional and loving care. In lieu of flowers, memorial donations may be sent there at 3358 Ridgewood Rd., Akron, OH 44333).

Akron Beacon Journal - Mar 30, 2010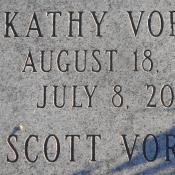 Click to enlarge
Photo courtesy of Find-a-Grave member #48498413.
---