Date : 04 Nov 2004
Location : Holy Cross Cemetery, Akron, OH

Kara Dawn Vorhes
Kara Dawn Vorhes, 27, of Akron, died unexpectedly Oct. 31 2004.
She was born in Akron on Aug. 18, 1977, to Kathy and Scott Vorhes, on her mother's birthday. She was also the first beloved grandchild to Warren and Pansy Michael. Kara was a 1995 graduate of Coventry High School and attended Stark State University. She was employed by Children's and Akron General Hospital.
Kara's pride and joy was her daughter, Bayleigh, whom she loved more than life itself.
Preceded in death by her mother, Kathy Vorhes, and grandmother, Jewel Takacs, she leaves, to cherish her memory, daughter, Bayleigh Vorhes; father, Scott T. Vorhes; brother, Scott E. Vorhes, all of Akron; grandparents, Bob and Virginia Vorhes of Ft. Myers, Fla., Warren and Pansy Michael of Akron, Ohio; along with many aunts, uncles, cousins, family and friends.
Funeral services at 11 a.m. Thursday at the Dunn-Quigley, Ciriello & Carr Funeral Home, 811 Grant St., with Rev. Scott Campbell officiating. Interment at Holy Cross Cemetery. Calling hours 5 to 8 p.m. TODAY at the funeral home.

Akron Beacon Journal - Nov 3, 2004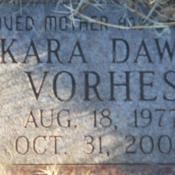 Click to enlarge
Photo courtesy of Find-a-Grave member #48498413.
---