Date : 14 Mar 2015
Location : Holy Cross Cemetery, Akron, OH

Scott E. Vorhes
Scott E. Vorhes, age 34, was reunited with his family when he passed away suddenly on March 9, 2015.
Born in Akron, he lived in the area all of his life. Scott graduated from Coventry High School, and was employed with Basement Care.
Preceded in death by his father, Scott and mother, Kathy Michael Vorhes; sister, Kara; grandfather, Warren Michael; grandfather, Robert E. Vorhes; and grandmother, Jewell Vorhes Takacs; he is survived by his grandmother, Pansy Michael; very sadly missed by his loving uncle, Jim Lucco; several aunts, uncles and cousins; special niece, Bayleigh; and good friend, Larry Moretz.
Memorial service will be Saturday, 11 a.m. at Hopkins Lawver Funeral Home, 547 Canton Road (Route 91), Akron, OH 44312, with Pastor Rich Ferris officiating. Interment will follow at Holy Cross Cemetery.

Akron Beacon Journal - Mar 12, 2015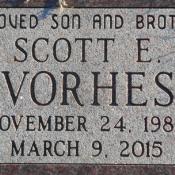 Click to enlarge
Photo courtesy of Find-a-Grave member #48498413.
---