Date : 13 Jul 2004
Location : Holy Cross Cemetery, Akron, OH

Kathy Vorhes (Michael)
Kathy Vorhes (Michael) passed away unexpectedly July 8, 2004.
She was born in Akron, Ohio, to Warren and Pansy (Butler) Michael on Aug. 18, 1955 and was an area resident all of her life. Kathy was a 1973 graduate of Garfield High School and a 31-year employee of Bridgestone/Firestone. She was a devoted wife, mother, grandmother, aunt, and friend. She will be sadly missed by all who knew her.
Preceded in death by her mother-in-law, Jewel Takacs, and sister-in-law, Sheree Michael, she leaves, to cherish her memories, husband of 29 years, Scott; daughter, Kara; son, Scott, and beloved grandchild, Bayleigh; parents, Warren and Pansy Michael of Akron; brothers, Warren Michael of Suffield, Wayne Michael of Akron, Wade (Lisa) Michael of Akron; sister, Robin (Jim) Lucco of Uniontown; sisters-in-law, Kathy Vorhes of Naples, Fla., Theresa (Monte) Lecrone of Napies; brother-in-law, Bob (Julie) Vorhes of Columbus; and many nieces, nephews, cousins, and friends.
Kathy's greatest joys in her life were her family, especially her granddaughter, Bayleigh, whom she spent every possible moment nurturing and loving. She was truly an angel on this earth and will be a wonderful addition to Heaven.
Funeral services at 11 a.m. Tuesday at the Dunn-Quigley-Ciriello & Carr Funeral Home, 811 Grant St., with Rev. Scott Campbell officiating. Interment at Holy Cross Cemetery. Calling hours 4 to 8 p.m. Monday at the funeral home.

Akron Beacon Journal - Jul 11, 2004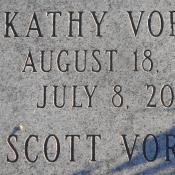 Click to enlarge
Photo courtesy of Find-a-Grave member #48498413.
---