Date : 26 Sep 1929
Location : Fairview-Lester Cemetery, Dunkerton, IA

Trumbauer Rites to Be Thursday at Dunkerton
Dunkerton, Ia., Sept. 25.
The funeral of Mrs. Henrietta Trumbauer who died at the home of a daughter near Jesup last evening, will take place here Thursday afternoon.
There will be prayer at the home of the daughter, Mrs. Charles Leary, at 1:30 p. m., and the public service will begin in the Methodist Episcopal church here at 2. Rev. Samuel Knorr, pastor, will officiate. Burial will be here.
Mrs. Trumbauer, who was 68 years old, was a lifelong resident of Lester township. She was Henrietta Trebon before her marriage. Her husband died four years ago.
One son and four daughters survive: Henry Trumbauer and Mrs. Herman Rudolph, Dunkerton; Mrs. Leary, Jesup; Mrs. Ernest Cole, Maynard, and Miss Mabel Trumbauer, in government service at Washington, D. C. She is on her way to Iowa.
Mrs. Trumbnuer had been ill several months. She went to the home of her daughter about 10 weeks ago.

Waterloo Evening Courier - Sep 25, 1929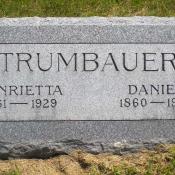 Click to enlarge
Photo courtesy of Find a Grave member #46625281.
---